Now to Next with Nick Nanton Feat. Mark Schaefer
Welcome back to Now to Next! On the latest installment, we welcome Mark Schaefer, Author and Marketing Strategist, for a conversation surrounding one of the last great marketing concepts in today's day and age. We're exploring the power of 'community' and why it's become such a powerful marketing tool for businesses and entrepreneurs. We're also diving into Mark's new book "Belonging to the Brand: Why Community is the Last Great Marketing Strategy!" This is an episode you won't want to miss, so click that play button now! Timecodes: 0:30 - Mark's new book launching January 9th 0:58 - Mark's background and bio 1:40 - What is branding? 3:20 - A defining moment in Mark's life 8:00 - The major factors within community these days 9:58 - The granular data that Spotify can collect 14:00 - Sharing with others or your community can help you process challenges and trauma 17:30 - The connection Mark aims to establish with his readers 18:52 - Why community is the last great marketing strategy 24:31 - The art and science behind community 27:27 - "Status is magnetism" 29:00 - The power of listening to your community 35:00 - It's okay to start at square one with a new community 37:00 - How community works so well with non-profits 41:00 - When you can get Mark's new book 42:00 - The future of communities and marketing 43:56 - Closing remarks
Now to Next with Nick Nanton Feat. Chad Willardson
Welcome back to Now to Next! On the latest installment of the show, we're excited to be joined by Chad Willardson, Author and Founder of Pacific Capital, for a deep dive into his latest book "Smart Not Spoiled," as well as the valuable financial skills we should be teaching our children. If you're a parent and you're wondering how these financial conversations will play out with your young (or future) children, look no further! Timecodes: 0:06 - Welcome to the show and introduction on Chad Willardson 2:20 - Chad's upbringing and early perception of money 6:22 - Jack Canfield's flying analogy 7:40 - "Once I hit a certain number, everything will be fine" 8:50 - Spreading wealth and money decisions across multiple children 12:47 - Where to begin your financial discussions with your children 15:26 - "Borrow wisely" 17:49 - A portion of every paycheck should be saved and invested for your future 22:03 - Find a wealth strategy that helps you sleep better at night 27:36 - Expect your children to screw up financially a few times 33:00 - Chad's experience with an NBA player and his 7-figure rookie deal 37:10 - "Protect who and what you care about" 41:42 - "I can't until..." 44:25 - You don't invest unless you have a faith in a brighter future 46:20 - Closing remarks
Now to Next with Nick Nanton Feat. Alex Epstein
Welcome back to Now to Next! We're thrilled to be joined by Alex Epstein, Philosopher and Energy Expert, for a deep dive into the pressing issues surrounding energy and environmental progress. We'll also explore some of the key themes Alex is sharing within his new book "Fossil Future." Sit back, relax, and enjoy another thought-provoking conversation! Timecodes: 0:20 - Introduction and overview on the guest of the day 2:30 - How Alex got introduced into energy policy 5:00 - If you're talking about getting rid of something, you need to look at its benefits first 6:15 - The three basic worries with fossil fuels 8:50 - Alex's viewpoints on climate change 10:30 - How fossil fuels help alleviate drought 12:50 - Why this issue seems to be so political 15:50 - How Alex manages the positive and negative feedback on his viewpoints 19:41 - It's hard for people to find a middle ground on this issue 23:08 - Addressing the other forms of energy out there 29:45 - Example of using wind power to power hospitals 32:30 - EnergyTalkingPoints.com 38:00 - How well Alex's team vets their information, data and facts 43:47 - How the naysayers have impacted Alex personally 48:00 - You have to love what you're doing for the negative feedback to not matter 51:00 - What's on the horizon for Alex 53:50 - Closing remarks
Now to Next with Nick Nanton Feat. Steve Sims
What would you be able to achieve if you weren't afraid of being laughed at? Well, welcome back to Now to Next! On our latest installment of the show, we're pleased to welcome Steve Sims, Founder & CEO of Bluefish, for a great discussion on Steve's new book "Go For Stupid"and the art of achieving ridiculous goals in your life. As Steve puts, in this age of "gotcha" culture, it's important that we push through the negativity to achieve what matters most to us! Timecodes: 0:20 - Introduction and catching up with Steve 4:45 - Learning more about Steve's upcoming book "Go For Stupid" 7:14 - The network effect of meeting people at high levels 11:54 - You need to take the risks and bank on yourself 20:34 - The process of goal planning and goal setting 27:00 - Social awareness and the art of asking versus demanding 34:24 - Rejection hurts, but don't let it kill your goals 42:05 - The value within Steve's new book "Go For Stupid" 42:27 - The story around "Kenneth the Bartender" 47:00 - Closing remarks
Now to Next with Nick Nanton Feat: Remi Adeleke
On the latest installment of Now to Next, we're so excited to welcome Remi Adeleke back to the show for another great conversation! Remi, a former Navy SEAL, author, and filmmaker, has just released his latest movie entitled "The Unexpected." The film captures the horrific reality of organ harvesting and means to bring awareness to this global issue. Join us for an enlightening conversation on this issue and some key takeaways on such a controversial topic. Timecodes: 0:25 - Introduction and overview on Remi 1:45 - Remi's appearance on Michael Bay's film "Ambulance" 2:50 - How Remi chose the topic of his movie The Unexpected 6:29 - The horrific reality of human trafficking 9:05 - Human trafficking is happening right here in our country 10:20 - Best way to support Remi and see his new movie The Unexpected 11:24 - What is organ harvesting? 17:50 - Organ harvesting happens in the most vulnerable places worldwide 22:13 - The demand for organs is through the roof 25:45 - What Remi learned about himself and this topic while making the movie 30:00 - Directing scripted material and the challenges associated with that 31:45 - "You have to rely on others and their abilities to make something special" 34:58 - Where to learn more about Remi's fascinating life story 36:18 - Bringing awareness to this massive issue 39:13 - Closing remarks
Now to Next with Nick Nanton | Feat. Keith Ferrazzi
On the latest installment of Now to Next, we welcome entrepreneur and the founder and chairman of Ferrazzi Greenlight, Keith Ferrazzi, to the show to discuss competing in the new world of work. Listen as Keith provides an overview on his latest book, 'Competing in the New World of Work: How Radical Adaptability Separates the Best from the Rest,' which is based on 2,000 interviews he and his team conducted with leaders throughout the pandemic. The book provides a guideline for how we can all capitalize on what we've learned over the past two years to stay competitive in the workplace of the future. There's a lot of great information packed into this episode that is bound to leave you with some considerations for your own business. So sit back, relax, and enjoy the discussion! Timecodes: 0:43 - Introduction and background information on Keith Ferrazzi 2:41 - Adaptability and how unique of a skill it is 10:15 - Building culture with virtual teams 21:40 - Best practices for team communication 23:47 - 80% of the US Prison Population came from foster care 25:14 - Keith's work with foster care 27:17 - How you can learn more from Keith
Conquering 50 Triathlons Within 50 Days Across 50 States
In the lates installment of Now to Next, we welcome James Lawrence, nicknamed The Iron Cowboy, who is perhaps best known for completing 50 Ironman-distance triathlons in 50 days in all 50 states. This feat earned him a world record for the number of consecutive long course triathlons completed, but he still wondered if he had truly found his mental and physical limits. In 2021, after the pandemic halted his regular speaking gigs, James took on his biggest challenge yet: Conquer 100, in which he raced an Ironman-distance triathlon for 100 consecutive days, from March 1, 2021 – June 8, 2021. We're so excited to have James onto the show to share his journey with us and how ordinary people can redefine impossible ever day and achieve extraordinary things. Timecodes: 0:40 - Introduction and background information on James Lawrence 2:36 - Defining what a triathlon is 12:42 - Distance running and the mental challenges we build up around it 22:38 - James' relationship with pain 28:59 - Criticism James received throughout his work to achieve his world record 37:45 - 100 triathlons in 100 days 43:08 - Sustaining injuries after the first few days and triathlons 47:20 - Going out and doing 101 triathlons instead of the original goal of 100 53:00 - Closing remarks
John Rivers is Following His Heart's Passion
Welcome back to the latest installment of Now to Next with Nick Nanton! In this episode, Nick sits down with John Rivers, Founder of 4 Rivers Smokehouse and the CEO of 4 Roots, an urban farm and agricultural education and food-distribution center, to discuss John's extraordinary work in the agriculture space. John's path to running the most successful barbecue chain in Florida is far from conventional. He is not a classically trained chef or graduate of culinary school, but rather spent 20 years in the healthcare industry, retiring as president of a billion-dollar company in order to pursue his lifelong dream of owning a restaurant. 4 Rivers Smokehouse began in 2004 as a 'barbecue ministry' after John hosted a cookout to support a local family whose daughter was battling cancer. John spent the next several years smoking brisket out of his garage before opening his first restaurant in Orlando in 2009. Today, 4R Restaurant Group has 22 locations in Florida, 4 Rivers has been voted "Best BBQ in the South" by Southern Living Magazine, and John has been named a finalist for the EY Entrepreneur of the Year Award two times. Through all the growth and success, John's "barbecue ministry" remains at the heart of his company's mission to lift up those in need and to support the local community.
What it takes to become a successful entrepreneur with Gino Wickman
Nick Nanton sits down with Gino Wickman, creator of the Entrepreneurial Operating System (EOS) and the founder of EOS Worldwide. EOS Worldwide helps tens of thousands of businesses implement EOS (a practical method for helping companies achieve greatness) with the aid of an international team of over 350 professional and certified EOS Implementers and online support. There are over 100,000 companies using the EOS tools worldwide. An entrepreneur since the age of 21, Gino has had an obsession for learning what makes businesses and entrepreneurs thrive. He has personally delivered more than 1,900 full-day sessions for more than 135 companies, helping them implement EOS. He is also the author of the award-winning, best-selling book "Traction: Get a Grip on Your Business," as well as "Get a Grip," "Rocket Fuel," "How to Be a Great Boss" and "What the Heck is EOS?," which have sold more than one million copies. Gino is now devoting time and energy toward helping entrepreneurs-in-the-making get a huge jump-start on taking their entrepreneurial leap, which is why he created "Entrepreneurial Leap." The mission of "Entrepreneurial Leap" is to find all of the entrepreneurs-in-the-making, at any age, wherever they are—to help them realize their purpose and live the life they were born to live. Timestamps: 1:06: A brief bio on Gino Wickman 2:12: Gino explains when he first realized that he was an entrepreneur 3:40: Gino's 6 essential traits of an entrepreneur 6:22: "Every entrepreneur who went to college said they would probably study something different if they had to do it all over" 12:45: Trait 1 - Visionary 18:24: Trait 2 - Passionate 22:56: Trait 3 - Problem Solver 25:48: Trait 4 - Driven 39:28: Trait 5 - Risk Taker 43:14: Trait 6 - Responsible 45:45: Can you be genetically incapable of taking on responsibility? 49:10: The challenging characteristics that come with being an entrepreneur
Learn The Happiness Equation feat. Mo Gawdat
Nick Nanton sits down with Mo Gawdat, the former Chief Business Officer for Google X, a serial entrepreneur and author of the books 'Solve for Happy' and 'Scary Smart'. After a 30-year career in tech, Mo has made happiness his primary topic of research, diving into literature and discussing the topic of happiness with some of the wisest people in the world. He poured his findings into his first book, 'Solve for Happy,' which he was inspired to write after the tragic death of his son, Ali, in 2014. Throughout his career, Mo has remained a serial entrepreneur who has cofounded more than 20 businesses as well as serving as a board member and mentor to various comanies and start-ups. He founded the organization One Billion Happy, in honor of his son, as a moonshot goal to help one billion people become happier. His latest book, 'Scary Smart' looks at the future of artificial intelligence and explains how to fix the current trajectory now, offering a blueprint for how we can take action to safeguard ourselves.
Applying FAITH to ENTREPRENEURSHIP Feat. Perry Marshall
Nick Nanton sits down with Perry Marshall, one of the most expensive business strategists in the world who has consulted in over 300 industries. Marshall is endorsed in FORBES and INC Magazine and has written eight books including, 'Ultimate Guide to Google Ads' which is the world's best-selling book on internet advertising and 'Memos from the Head Office' which came out in May of this year and shares incredible true stories of entrepreneurs who found success by listening to a power outside themselves. In addition to his consulting and speaking work, Marshall founded the $10 million Evolution 2.0 Prize, the world's largest science research award, which is offered to anyone who can discover the origin of genetics and life on earth.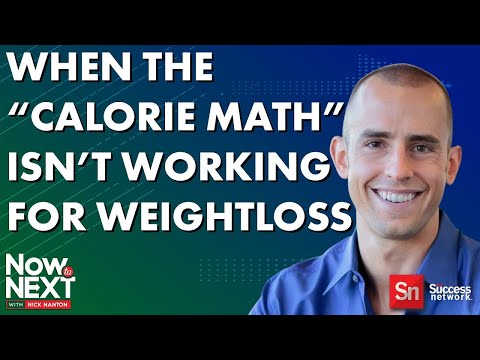 Wellness Expert REVEALS Why You CAN'T LOSE WEIGHT! Feat. Jonathan Bailor
Nick Nanton sits down with Jonathan Bailor, a New York Times bestselling author, wellness expert, and founder of the metabolic healing and Diabesity treatment company, SANE Solution. Jonathan also produced and stars in the new documentary, BETTER, which debunks the myth that the only way to lose weight is to starve your body. The film focuses on the dual epidemics of obesity and diabetes, called Diabesity, and looks at the reason for its rise and what we can all do to live and eat better. Jonathan has registered over twenty-five patents to his name, spoken at Fortune 100 companies and TED conferences for over a decade, and his work has been endorsed by top doctors and scientists from Harvard Medical School, Johns' Hopkins, The Mayo Clinic, The Cleveland Clinic, and UCLA.
Now to Next with Nick Nanton Feat. Ricky Kej
Nick Nanton sits down with Ricky Kej, a Grammy Award-winning Indian music composer who has performed in over 30 countries, including at the United Nations headquarters in New York and Geneva. Ricky is also a renowned Environmentalist and has been named a United Nations Global Humanitarian Artist. Ricky won a Grammy at the 57th Annual Grammy Awards in 2015 for his album 'Winds of Samsara' which was in the Best New Age Album category. The album also debuted at No. 1 on the US Billboard New Age Albums Chart in August 2014. His incredible body of work includes 17 studio albums, over 3500 commercials and four feature films. Now, Ricky has a new album out titled "Divine Tides," which was produced in collaboration with 5-time Grammy Award winner Stewart Copeland of The Police. The album is a tribute to the magnificence of our natural world and it features many acclaimed artists from around the world.
The Crisis You Didn't Even Realize Was Happening Feat. Dr. Kimberly Berens
Dr. Kimberly Nix Berens is the Founder of Fit Learning and Regional Director of Fit Learning Tri-State. She is an educational researcher who has published and presented extensively on science-based approaches to education, speaking at over 30 regional, national, and international conferences. Nick and Dr. Berens sit down today to discuss several talking points from her first book, "Blind Spots: Why Students Fail and the Science That Can Save Them". In 1998, as a doctoral student in learning and behavioral science, Dr. Berens founded Fit Learning in a broom closet on campus at the University of Nevada, Reno. Since her humble beginnings, Dr. Berens has driven the expansion of Fit Learning by establishing a formal certification in her method of instruction, The Technology of Teaching. Fit Learning now has 31 locations worldwide, with 3 to 5 new locations opening each year. For the past 20 years, Dr. Berens and her team have refined their system of instruction using behavioral and cognitive science. As a result, her system produces over one year of academic growth in just 40 hours of instruction.
Now to Next with Nick Nanton Feat. Rebecca Zung
Today's guest Rebecca Zung is a best-selling author and a leading authority on negotiation and family law. Her journey from being a divorced single mom and college dropout to one of the top attorneys in the U.S. has inspired her to empower others to live at their optimum levels of success. As a partner in the law firm of Long, Murphy and Zung, Rebecca is in the top 1% of attorneys in the United States. She has been recognized by the U.S. News and World Reports as a best lawyer in America and as a legal elite by Trend magazine. Zung has also received the highest possible peer rating of AV Preeminent in family law by Martindale-Hubbell. She has been featured in Forbes, Huffington Post, News Week, Time, NPR, Good Day New York and CBS Los Angeles. Zung is also a host of the popular Youtube show/podcast "Negotiate Your Best Life." Today, Nick and Rebecca talk through concepts from her best-selling books "Breaking Free: A Step-By-Step Divorce Guide for Achieving Emotional, Physical and Spiritual Freedom" and the recently released "Negotiate Life Like You Matter: The Surefire Method to Step Up and Win".